Christmas is getting closer and closer! I'm having so much fun with the 12 Days of Christmas Blog Hop, the ideas are amazing. Today's theme is Hot Cocoa Bar. Hot Chocolate is constantly being made in our house. Tasha loves warming almond milk on the stove with Hershey's Syrup. O-Man has instant hot cocoa every morning while I have my coffee, especially now that we have a new instant hot in our kitchen. So, today I'm sharing my favorite homemade hot cocoa mix that is creamy and chocolaty and the perfect cocoa mix for any Hot Cocoa Bar!
---
Welcome to the third annual 12 Days of Christmas Blog Hop!
Stop by every day from December first through the twelfth for new ideas you can use to make your season brighter!
Meet Your Hosts
They have all been busy as Elves creating, decorating, cooking and crafting tons of new ideas for you to try this holiday season!
Shirley~Intelligent Domestications I Alli~An Alli Event I Michelle~Our Crafty Mom I Marie~DIY Adulation 
Erlene~My Pinterventures I Beverly~Across The Blvd. I Debra~Shoppe No. 5 I Victoria~Dazzle While Frazzled
Megan~C'mon Get Crafty I Michelle~Michelle James Designs I Amanda~Domestically Creative
Deborah~Salvage Sister & Mister I Jeanie~Create & Babble I Sherry~Olives & Okra
Jenny~Cookies Coffee & Crafts I Emily~Domestic Deadline I Bonbon~Farmhouse 40 I Susanne~Pearl Street Designs 
Leanna~Of Faeries & Fauna I Pam Larmore~P.S. I Love You Crafts I Kelly~North Country Nest I Marie~The Inspiration Vault
Gail~Purple Hues and Me I Lynne~My Family Thyme I Karen~Dragonfly and Lily Pads I Trisha~Blowing Away Out West
Tomika~Life In Pumps I Rachee~Say it, "Rah-Shay" I Lorrin~Embrace The Perfect Mess 
Jaime~Love Jaime I Serena~The Weekend Jaunts I Terri~Christmas Tree Lane I Jessica~A Southern Mother 
Sam~Raggedy Bits I Surya~The Busy Mom Club  I Cyn~Creative Cynchronicity
Valeria~Val Event Gal I Yami~The Latina Next Door I Jeannee~Centsably Creative I Tania~Little Vintage Cottage
 Lauren~Wonderfully Made I Vanessa~DIY 180 I Kimberly~A Wonderful Thought I Kim~Everyday Parties I Erica~Erica Ever After
---
Hot Cocoa Mix
Keep a batch of this on hand in an airtight container to meet your chocolate cravings at any time.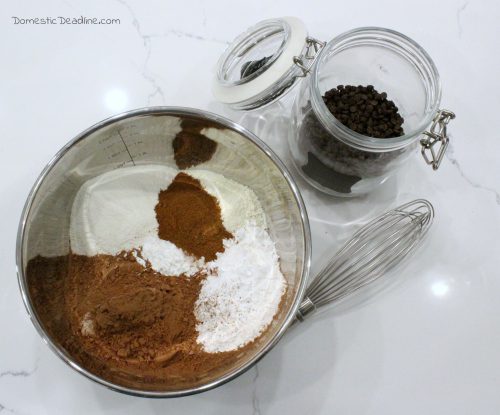 In a bowl whisk together the following:
1 1/4 cup powdered milk (one packet if you get the box of 3 at Walmart)
1 cup powdered coffee creamer (try experimenting with different flavors!)
1 cup powdered sugar (add up to 1/2 cup more if you like it really sweet)
1 cup cocoa
2 teaspoons cornstarch (to prevent caking)
1 teaspoon salt
1 tablespoon cinnamon
Once it's all mixed up nicely, stir in 1 cup of mini chocolate chips.
This can easily be doubled or even tripled! I keep the mix in a mason jar.
Just Add Water
Depending on the size of your mug, add 3-4 tablespoons of the mix to the bottom of your cup. Mix in hot water and enjoy!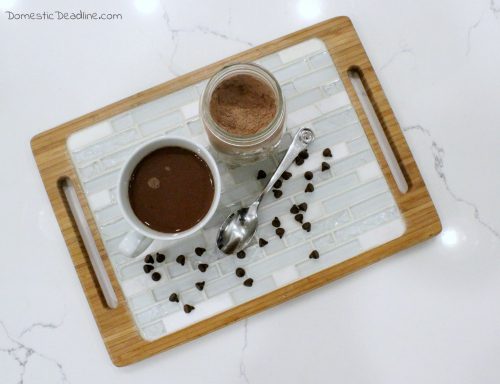 The mini chocolate chips melt nicely in the hot water.
I've never actually done a hot cocoa bar! I may have to for our Christmas Eve party. If I do, I'll put the mugs and hot cocoa mix between the coffee maker and the sink where we have our instant hot.
My sink is full of dishes at the moment… so this isn't my sink…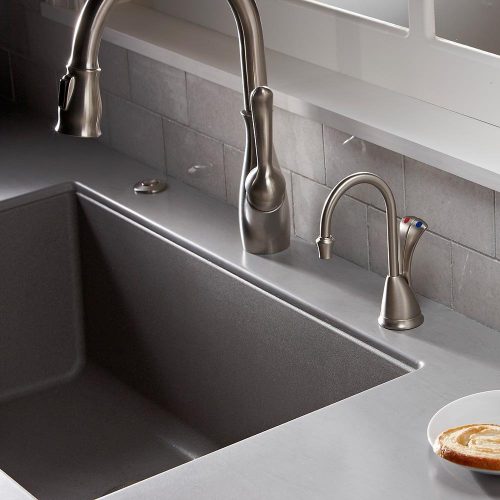 But this is the model I have, both hot and cold. We didn't get a water dispenser in our fridge because the massive size was more important to us. So this offers us filtered cool water all the time. And, of course, the instant hot water for tea, cocoa, oatmeal, and more.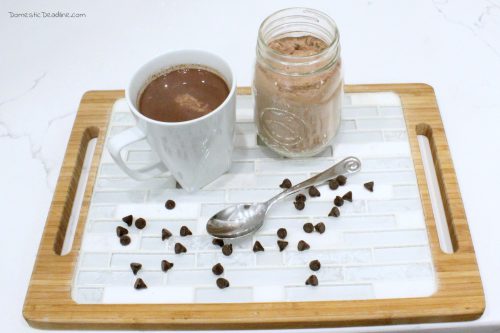 ---
Be sure to visit our fellow 12 Days of Christmas Bloggers below for even more creative ideas this holiday season!
Pin and Share
As always, feel free to pin and share.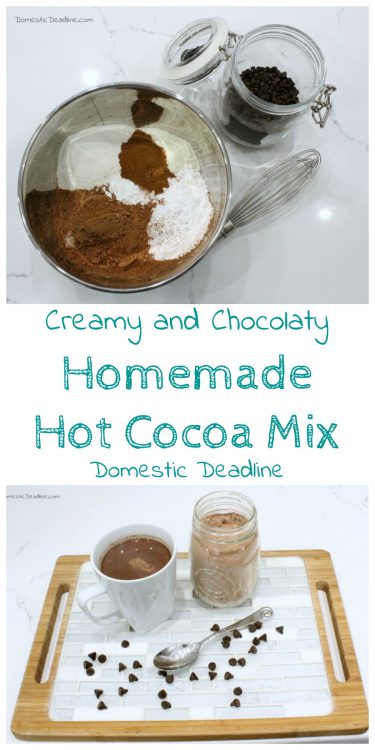 And, if you're curious, check out my kitchen remodel, the instant hot is only one of the great features I added to my dream kitchen.
The tray shown in my pictures was a fun DIY project from leftover tiles. Find it here.