There's been a little side project going on here at Domestic Deadline. A little over a year ago, while sitting around the table with my family, a new card game was born. What started as a really bad hand, or "fist full of turds" as my brother-in-law said, has become Crappy Hand. With the help of our cousin, Laura, my sisters Gretchen and Molly, have launched Crappy Hand right here on my little blog. With unique artwork and funny rules, this makes the perfect stocking stuffer or party game for anyone! And, the perfect way to celebrate day 6 of the 12 Days of Christmas Blog Hop… Games!
---
Welcome to the third annual 12 Days of Christmas Blog Hop!
Stop by every day from December first through the twelfth for new ideas you can use to make your season brighter!
Meet Your Hosts
They have all been busy as Elves creating, decorating, cooking and crafting tons of new ideas for you to try this holiday season!
Shirley~Intelligent Domestications I Alli~An Alli Event I Michelle~Our Crafty Mom I Marie~DIY Adulation 
Erlene~My Pinterventures I Beverly~Across The Blvd. I Debra~Shoppe No. 5 I Victoria~Dazzle While Frazzled
Megan~C'mon Get Crafty I Michelle~Michelle James Designs I Amanda~Domestically Creative
Deborah~Salvage Sister & Mister I Jeanie~Create & Babble I Sherry~Olives & Okra
Jenny~Cookies Coffee & Crafts I Emily~Domestic Deadline I Bonbon~Farmhouse 40 I Susanne~Pearl Street Designs 
Leanna~Of Faeries & Fauna I Pam Larmore~P.S. I Love You Crafts I Kelly~North Country Nest I Marie~The Inspiration Vault
Gail~Purple Hues and Me I Lynne~My Family Thyme I Karen~Dragonfly and Lily Pads I Trisha~Blowing Away Out West
Tomika~Life In Pumps I Rachee~Say it, "Rah-Shay" I Lorrin~Embrace The Perfect Mess 
Jaime~Love Jaime I Serena~The Weekend Jaunts I Terri~Christmas Tree Lane I Jessica~A Southern Mother 
Sam~Raggedy Bits I Surya~The Busy Mom Club  I Cyn~Creative Cynchronicity
Valeria~Val Event Gal I Yami~The Latina Next Door I Jeannee~Centsably Creative I Tania~Little Vintage Cottage
 Lauren~Wonderfully Made I Vanessa~DIY 180 I Kimberly~A Wonderful Thought I Kim~Everyday Parties I Erica~Erica Ever After
---
Crappy Hand
Crappy Hand is a single suited card game… the turd suit. Yep, it's potty humor at it's finest! Because, how often have you looked at your hand of cards and thought "I have a crappy hand." Well, now you WANT to have that crappy hand. The crappier the better.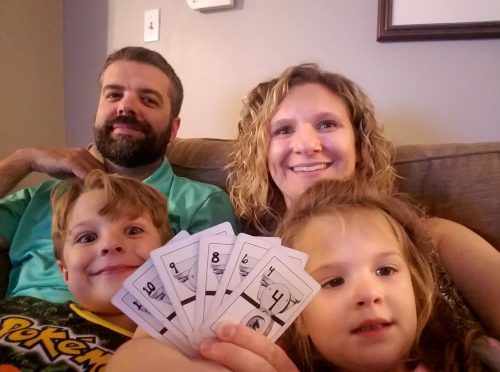 My sister, Gretchen, and her family took the concept and ran with it. With two young kids (one who is currently being potty trained), toilet humor is currently a big hit in her house.
Our cousin Laura did all the artwork and our sister Molly handled all the digital editing and proofing for print.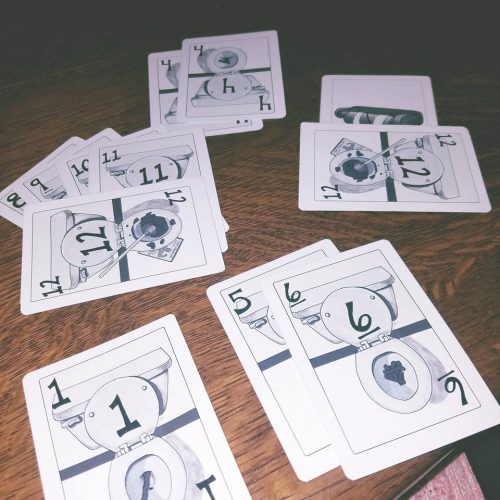 Crappy Party
We thought about having a kick-starter, instead, we had a crap-starter! I added a page to Domestic Deadline and we spread the word to our family and friends via Facebook.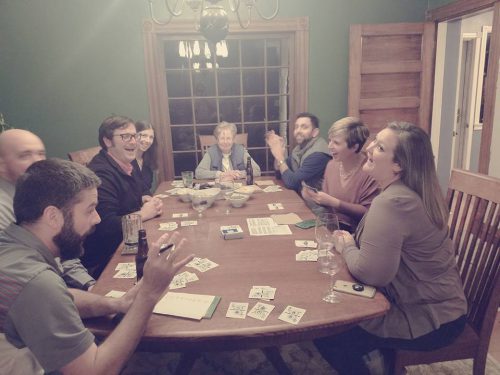 And hosted some "Crappy Parties." Seriously, Crappy Parties are the easiest way to have game night… get a deck or two (depending on the number of people playing) of Crappy Hand, have some friends over… don't go overboard with appetizers and deserts… this is a Crappy Party, off-brand chips and dip is just fine!
But go ahead and spend your money on decent drinks… unless your still a poor college student, no one wants to actually drink cheap beer!
How to Play
We even put together a crappy video to show you how to play!

Ready to play? You can order for yourself or others here and use my name (Emily) in the coupon code field to save money!!!! That's not crappy!
Seriously, the reviews are stellar…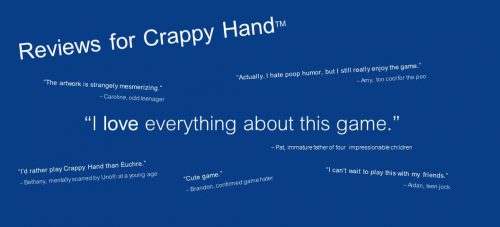 Mainly because we made everyone we know play the game with us and give us a review!
---
Be sure to visit our fellow 12 Days of Christmas Bloggers below for even more creative ideas this holiday season!