Today's theme is holiday party food! I must admit, I initially panicked for this post! I enjoy hosting parties, but they can bring a lot of stress, and I don't like to spend the entire party in the kitchen. I also don't want to spend days or weeks leading up to the party slaving away in the kitchen. Every year we host a Christmas Eve party for friend family (the friends who have become our family!). Everyone brings appetizers or desserts and last year we had the meal catered… unfortunately, that restaurant went out of business. I'm not sure what all we will be serving this year, but I do know we will be having my favorite potatoes. With only 2 main ingredients, these are easy and always a hit.
---
Welcome to the third annual 12 Days of Christmas Blog Hop!
Stop by every day from December first through the twelfth for new ideas you can use to make your season brighter!
Meet Your Hosts
They have all been busy as Elves creating, decorating, cooking and crafting tons of new ideas for you to try this holiday season!
Shirley~Intelligent Domestications I Alli~An Alli Event I Michelle~Our Crafty Mom I Marie~DIY Adulation 
Erlene~My Pinterventures I Beverly~Across The Blvd. I Debra~Shoppe No. 5 I Victoria~Dazzle While Frazzled
Megan~C'mon Get Crafty I Michelle~Michelle James Designs I Amanda~Domestically Creative
Deborah~Salvage Sister & Mister I Jeanie~Create & Babble I Sherry~Olives & Okra
Jenny~Cookies Coffee & Crafts I Emily~Domestic Deadline I Bonbon~Farmhouse 40 I Susanne~Pearl Street Designs 
Leanna~Of Faeries & Fauna I Pam Larmore~P.S. I Love You Crafts I Kelly~North Country Nest I Marie~The Inspiration Vault
Gail~Purple Hues and Me I Lynne~My Family Thyme I Karen~Dragonfly and Lily Pads I Trisha~Blowing Away Out West
Tomika~Life In Pumps I Rachee~Say it, "Rah-Shay" I Lorrin~Embrace The Perfect Mess 
Jaime~Love Jaime I Serena~The Weekend Jaunts I Terri~Christmas Tree Lane I Jessica~A Southern Mother 
Sam~Raggedy Bits I Surya~The Busy Mom Club  I Cyn~Creative Cynchronicity
Valeria~Val Event Gal I Yami~The Latina Next Door I Jeannee~Centsably Creative I Tania~Little Vintage Cottage
 Lauren~Wonderfully Made I Vanessa~DIY 180 I Kimberly~A Wonderful Thought I Kim~Everyday Parties I Erica~Erica Ever After
---
2 Ingredient Potatoes
I grew up calling these Aunt Bettie potatoes. Figuring they must have been hard to make because we only had them for holidays at my Aunt Bettie's or Grandma's.
When I learned the secret recipe and how easy these potatoes are, I started making them for more than just holidays. Perfect for potlucks or to feed a crowd. Sometimes I make them just because!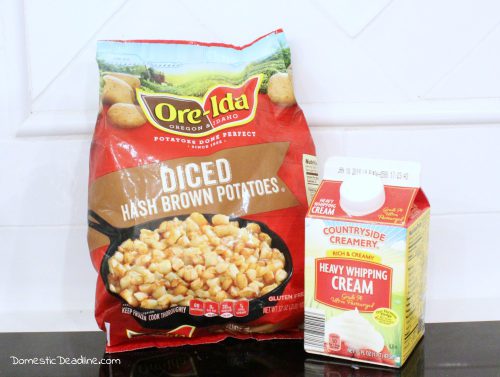 Yep, that's it. Diced hash browns and whipping cream! Ok, so salt, pepper, and paprika, but most people have those in their spice rack, so they don't even need to go on the shopping list.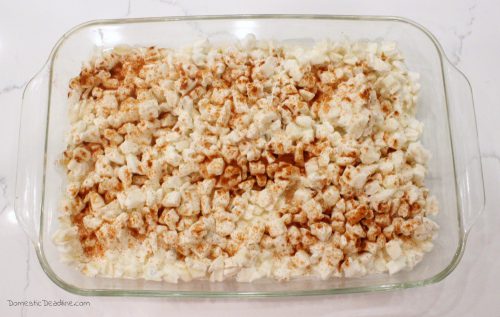 In a casserole dish, pour in the frozen potatoes. Ore-Ida really do seem to be the best for this recipe, I don't know why, but twice I've used off brand and they just didn't cut it for me. Salt and pepper the potatoes.
Pour on the cream… the whole container. Sprinkle with some paprika. Cover in foil and bake at 350 degrees for an hour.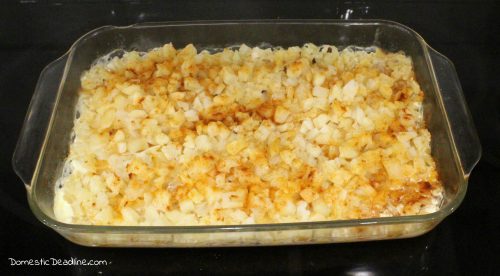 Golden brown means they are done!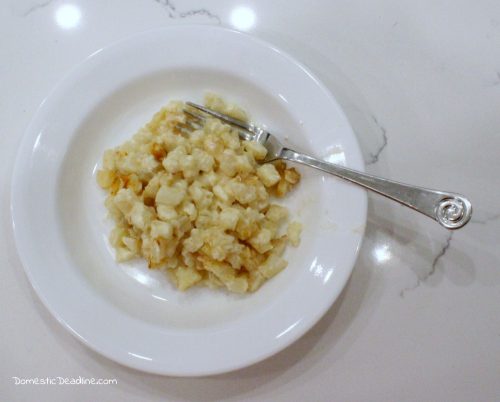 The cream makes the potatoes creamy, almost cheesy.
Variations
Most of the time I prefer the hash browns plain. Sometimes I haven't been able to find them and end up with the kind with onions and peppers diced with the potatoes. Those work too. Actually, for Christmas, they make them even more appropriate since they have red and green peppers!
When I'm craving these on a weeknight? I'll add a bag of frozen peas and diced ham. Usually, if I'm turning it into a dinner casserole like this, I'll just use half-and-half, because we don't really need that much cream all the time!
I've even made a huge crock pot full, several bags of potatoes worth. This is probably what I will do for our Christmas Eve Party this year.
And if there are leftovers?
They are even better the next day!
---
Be sure to visit our fellow 12 Days of Christmas Bloggers below for even more creative ideas this holiday season!