Day 3 of the 12 Days of Christmas Blog Hop is here! Today's theme is Snowmen. When my friends at Bad Hippies sent me some peppermint bath bombs I thought I'd use turn them into a cute snowman gift. Something for my daughter's stocking, or maybe to include with a teacher gift. And, despite having made great progress in my craft room, I wasn't ready to get out the sewing machine. The glue gun it is!
---
Welcome to the third annual 12 Days of Christmas Blog Hop!
Stop by every day from December first through the twelfth for new ideas you can use to make your season brighter!
Meet Your Hosts
They have all been busy as Elves creating, decorating, cooking and crafting tons of new ideas for you to try this holiday season!
Shirley~Intelligent Domestications I Alli~An Alli Event I Michelle~Our Crafty Mom I Marie~DIY Adulation 
Erlene~My Pinterventures I Beverly~Across The Blvd. I Debra~Shoppe No. 5 I Victoria~Dazzle While Frazzled
Megan~C'mon Get Crafty I Michelle~Michelle James Designs I Amanda~Domestically Creative
Deborah~Salvage Sister & Mister I Jeanie~Create & Babble I Sherry~Olives & Okra
Jenny~Cookies Coffee & Crafts I Emily~Domestic Deadline I Bonbon~Farmhouse 40 I Susanne~Pearl Street Designs 
Leanna~Of Faeries & Fauna I Pam Larmore~P.S. I Love You Crafts I Kelly~North Country Nest I Marie~The Inspiration Vault
Gail~Purple Hues and Me I Lynne~My Family Thyme I Karen~Dragonfly and Lily Pads I Trisha~Blowing Away Out West
Tomika~Life In Pumps I Rachee~Say it, "Rah-Shay" I Lorrin~Embrace The Perfect Mess 
Jaime~Love Jaime I Serena~The Weekend Jaunts I Terri~Christmas Tree Lane I Jessica~A Southern Mother 
Sam~Raggedy Bits I Surya~The Busy Mom Club  I Cyn~Creative Cynchronicity
Valeria~Val Event Gal I Yami~The Latina Next Door I Jeannee~Centsably Creative I Tania~Little Vintage Cottage
 Lauren~Wonderfully Made I Vanessa~DIY 180 I Kimberly~A Wonderful Thought I Kim~Everyday Parties I Erica~Erica Ever After
---
Bath Bombs
Bad Hippies hand makes in small batches Castile soaps, lotion bars, soy candles, laundry detergent, bath bombs and more. Good for the body and the environment.
Tasha is a huge fan of the Castile soaps and lotion bars. With her allergies, she's sensitive to so many things and can't use any commercial scented lotions and washes.  And the laundry detergent is a family favorite.
Peppermint bath bombs are perfect to use for this project, but Bad Hippies has several scents.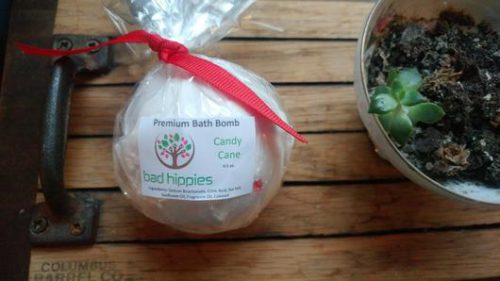 They arrive beautifully wrapped and giftable. But for this project, I rewrapped two of them in cellophane. Three would be great too.
No-Sew Hat
After trimming the excess cellophane off the top, I cut a piece of flannel snowflake fabric. Fleece would also work great for this.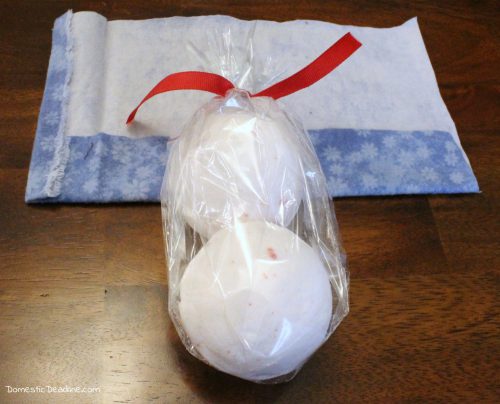 First, fold the bottom edge up. Then fold one side (the left in this picture) and hot glue it to conceal the unfinished edge.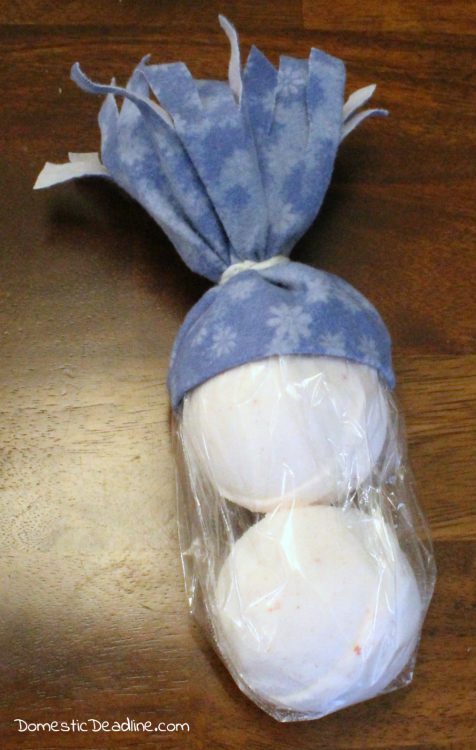 Hot glue the hat just above the midway point of the top bath bomb. The back seam also gets hot glued closed. Use a piece of string or a ribbon to cinch the hat together. Simply snip the top of the hat to create the fringe.
No-Sew Scarf
Using a long strip of the fabric, fold the ends in and hot glue the majority of the scarf together.

In the above picture, I left a few inches unglued to make it easier to see in the picture. I went back and glued all but about one inch of the end.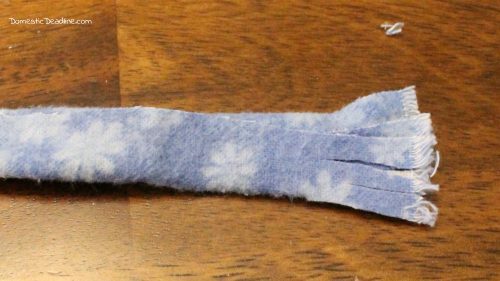 Again, I used a scissors to snip fringe into both ends of the scarf.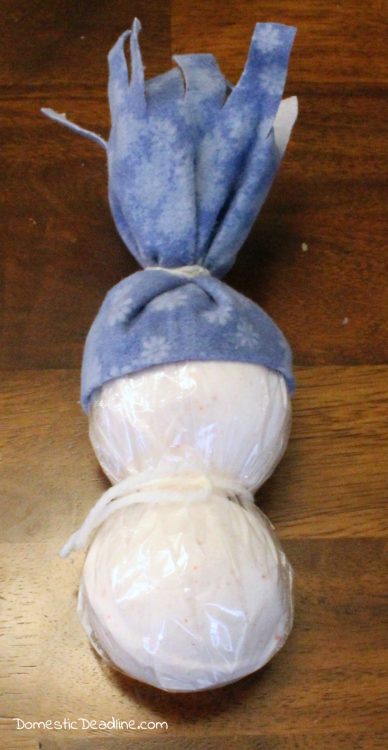 I found tying a piece of yarn between the two bath bombs before tying the scarf on helped the scarf lay better.
Snowman Bath Bomb Gift
A piece of orange pipe cleaner and a black sharpie marker finished off the face and charcoal buttons on my snowman.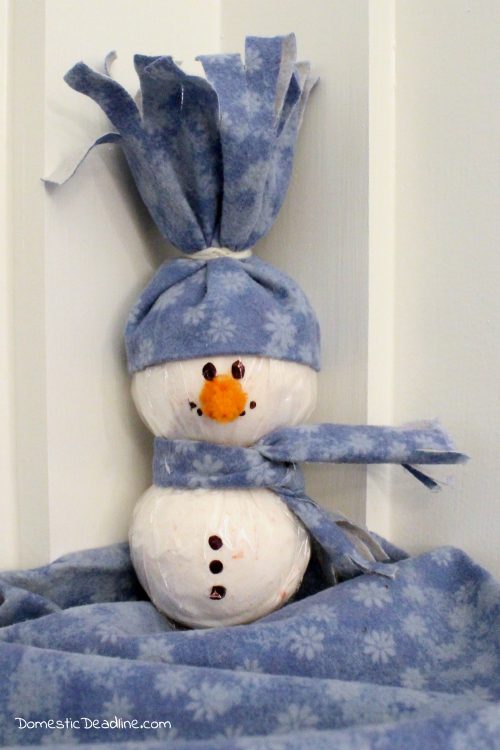 Bad Hippies is offering buy 3 get one free on bath bombs and soaps!
Use the code DDBathBomb for 1 FREE bath bomb with the purchase of 3
Use the code DDSoap for 1 FREE soap with the purchase of 3
---
Be sure to visit our fellow 12 Days of Christmas Bloggers below for even more creative ideas this holiday season!
Pin and Share