Welcome to Day 2 of the 12 Days of Christmas Blog Hop! Today's theme is Christmas Movies. We all know there are so many wonderful Christmas movies. Once you can't pass up when flipping through the channels. I recently participated in a 25 Christmas Movies Blog Hop where we each did a project based on a different movie. My selection was Elf! And, while that movie is one of my favorites, it's not my all-time favorite. My all-time favorite Christmas movie is Miracle on 34th Street. Both versions are great, but I'm partial to the original.
---
Welcome to the third annual 12 Days of Christmas Blog Hop!
Stop by every day from December first through the twelfth for new ideas you can use to make your season brighter!
Meet Your Hosts
They have all been busy as Elves creating, decorating, cooking and crafting tons of new ideas for you to try this holiday season!
Shirley~Intelligent Domestications I Alli~An Alli Event I Michelle~Our Crafty Mom I Marie~DIY Adulation 
Erlene~My Pinterventures I Beverly~Across The Blvd. I Debra~Shoppe No. 5 I Victoria~Dazzle While Frazzled
Megan~C'mon Get Crafty I Michelle~Michelle James Designs I Amanda~Domestically Creative
Deborah~Salvage Sister & Mister I Jeanie~Create & Babble I Sherry~Olives & Okra
Jenny~Cookies Coffee & Crafts I Emily~Domestic Deadline I Bonbon~Farmhouse 40 I Susanne~Pearl Street Designs 
Leanna~Of Faeries & Fauna I Pam Larmore~P.S. I Love You Crafts I Kelly~North Country Nest I Marie~The Inspiration Vault
Gail~Purple Hues and Me I Lynne~My Family Thyme I Karen~Dragonfly and Lily Pads I Trisha~Blowing Away Out West
Tomika~Life In Pumps I Rachee~Say it, "Rah-Shay" I Lorrin~Embrace The Perfect Mess 
Jaime~Love Jaime I Serena~The Weekend Jaunts I Terri~Christmas Tree Lane I Jessica~A Southern Mother 
Sam~Raggedy Bits I Surya~The Busy Mom Club  I Cyn~Creative Cynchronicity
Valeria~Val Event Gal I Yami~The Latina Next Door I Jeannee~Centsably Creative I Tania~Little Vintage Cottage
 Lauren~Wonderfully Made I Vanessa~DIY 180 I Kimberly~A Wonderful Thought I Kim~Everyday Parties I Erica~Erica Ever After
---
Miracle on 34th Street
Almost 3 years ago, after an extensive search, we thought we had found the perfect house for our family. We had outgrown our old house and were patiently looking for the right house in our town.
Just before Thanksgiving, we put in an offer on an estate sale. It needed major work, but we were up for the task.
IronFish and I hadn't told the kids because we knew it could be a long process and wanted to wait until we knew more. We began planning how we would tell them. It was decided if we knew we had the house before Christmas, we were going to wrap up a picture of the house and give it to the kids for Christmas!
Needless to say, by Valentine's Day, we were back to looking. But, my prayer had been we would find the right house for our family. That obviously wasn't the right house. After a bit more searching, we found OUR house!
Ironically, it's the same model house as the first one, in the same neighborhood! But, it's a much better location and it had a fireplace and a full basement, two things the previous one didn't.
We've turned it into our dream home.
But, it's always stuck with me that I wanted to wrap up the house to give to our children. The only thing Susan wanted Mr. Kringle to give her was the perfect house.
Gift Wrapping a House
IronFish and JuneBug enjoy putting all the Christmas Lights on the house every year after Thanksgiving. Each year they add something new. With a new porch and front walkway, they had a new canvas to work with.
As I was thinking of how I wanted to decorate this year, I had Miracle on 34th Street playing in the background (the newer version because it was on TV!). I realized I could hang presents on the wall!
I currently only have a few pictures hanging on the wall. Like this one: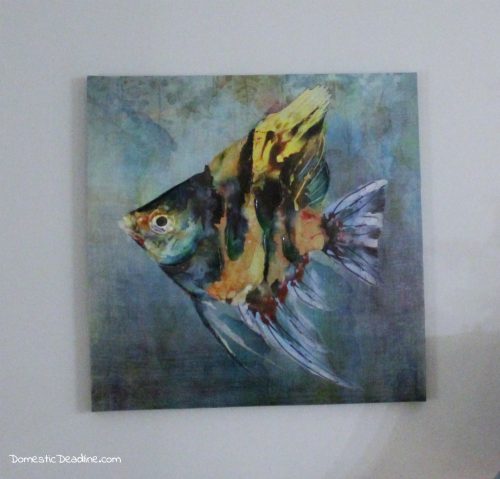 With the last name Fish, are you really surprised?
To coordinate with the modern farmhouse theme we have going, I grabbed a roll of craft paper to cover the canvas.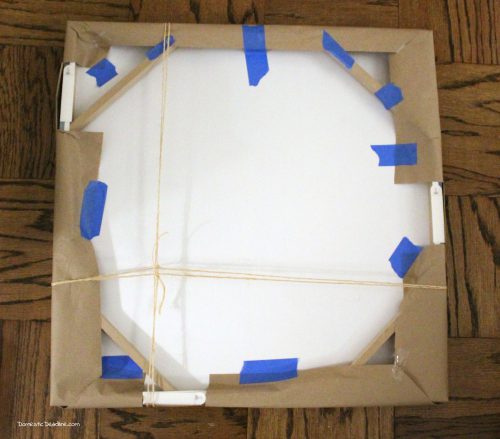 Painters tape turned out to be the best tape to adhere to the backside of the canvas. I also wrapped some twine around the picture. I use Command Strips to hang pictures, so I made sure they weren't covered by the paper.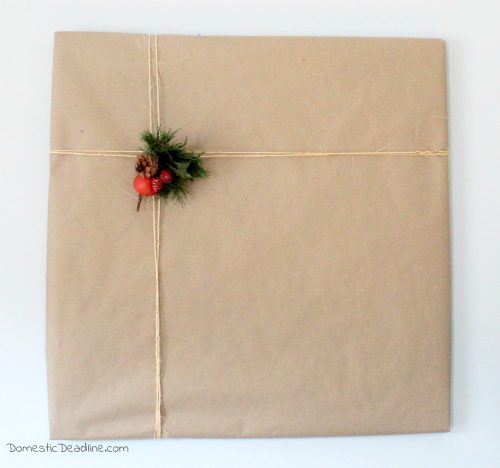 A wreath pick finished off the look. I love the simplicity of the brown paper. A simple way to decorate for Christmas.
---
Be sure to visit our fellow 12 Days of Christmas Bloggers below for even more creative ideas this holiday season!