Welcome to Day one of the 12 Days of Christmas Blog Hop! I'm so excited to be a part of this. Over the next 12 days, almost 50 bloggers will be sharing daily projects or recipes for a variety of Christmas themes. Today is all about ornaments and I'll be sharing my DIY "Knit" Christmas Ornaments.
---
Welcome to the third annual 12 Days of Christmas Blog Hop!
Stop by every day from December first through the twelfth for new ideas you can use to make your season brighter!
Meet Your Hosts
They have all been busy as Elves creating, decorating, cooking and crafting tons of new ideas for you to try this holiday season!
Shirley~Intelligent Domestications I Alli~An Alli Event I Michelle~Our Crafty Mom I Marie~DIY Adulation 
Erlene~My Pinterventures I Beverly~Across The Blvd. I Debra~Shoppe No. 5 I Victoria~Dazzle While Frazzled
Megan~C'mon Get Crafty I Michelle~Michelle James Designs I Amanda~Domestically Creative
Deborah~Salvage Sister & Mister I Jeanie~Create & Babble I Sherry~Olives & Okra
Jenny~Cookies Coffee & Crafts I Emily~Domestic Deadline I Bonbon~Farmhouse 40 I Susanne~Pearl Street Designs 
Leanna~Of Faeries & Fauna I Pam Larmore~P.S. I Love You Crafts I Kelly~North Country Nest I Marie~The Inspiration Vault
Gail~Purple Hues and Me I Lynne~My Family Thyme I Karen~Dragonfly and Lily Pads I Trisha~Blowing Away Out West
Tomika~Life In Pumps I Rachee~Say it, "Rah-Shay"  I Lorrin~Embrace The Perfect Mess 
Jaime~Love Jaime I Serena~The Weekend Jaunts I Terri~Christmas Tree Lane I Jessica~A Southern Mother 
Sam~Raggedy Bits I Surya~The Busy Mom Club  I Cyn~Creative Cynchronicity
Valeria~Val Event Gal I Yami~The Latina Next Door I Jeannee~Centsably Creative I Tania~Little Vintage Cottage
 Lauren~Wonderfully Made I Vanessa~DIY 180 I Kimberly~A Wonderful Thought I Kim~Everyday Parties I Erica~Erica Ever After
---
Before
I've always let the kids decorate the tree however they want. To me, it's part of the fun of Christmas. We usually get a new ornament for each of them every year and a family one. We sometimes even buy ornaments when on vacation.
So, I was a little surprised when the girls said they wanted matching ornaments on the tree! O-Man wasn't on board with this. The girls argued they wanted it to look like something out of a magazine. O continued to disagree.
We finally came to a compromise. A bit classier and less cluttered and "childish" (their word!). Selecting some of our favorite ornaments, I ended up with a pile of ornaments with no sentimental value, including a set of 12 teddy bear balls.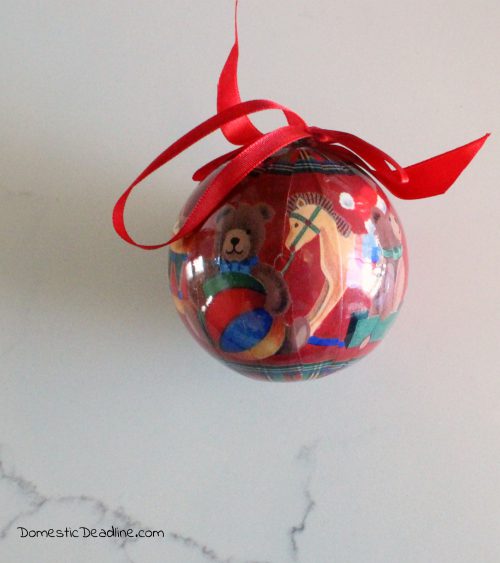 Once upon a time, they were cute. Especially since I used to love and collect teddy bears. These are ready for a makeover
"Knitting"
I love to crochet and occasionally knit. There are some great tutorials for ornaments out there, but I just wanted the texture of a warm knit sweater.
To begin, I selected an ivory yarn and crocheted a very long chain. I think you could get a similar look from braiding the yarn if you don't crochet.
Then, using my trusty glue gun, I began to glue the yarn chain onto the old ornament.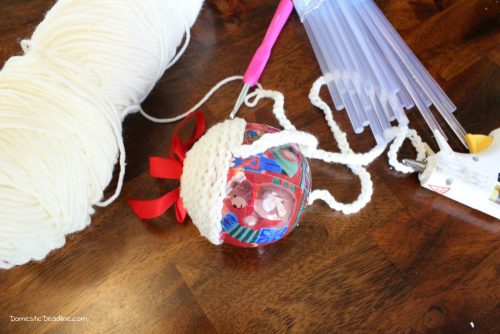 Continuing to work around the ball and crochet more as needed. At the end, I knotted the yarn and tucked the tail under while gluing the last portion in place.
"Knit" Christmas Ornament
I am still thinking about changing the red ribbon to something more rustic, like twine. But, JuneBug said she liked the red since we still have mainly red in the rest of the ornaments.
It's beginning to look a lot like Christmas around here!
---
Be sure to visit our fellow 12 Days of Christmas Bloggers below for even more creative ideas this holiday season!