My family has said for a while I need to get my craft room under control. Over the past 2 years, I've weeded it out a few times. With the kitchen winding down, and a low-key weekend, I jumped into the craft room. I do have a vision for the space. Ideally, I'll be able to actually work in the craft room, crafting away. The space will be visually pleasing, a haven for my crafty mind. But, I think that's in the distance a bit, hopefully, not too far off!
Current State
Deep breath….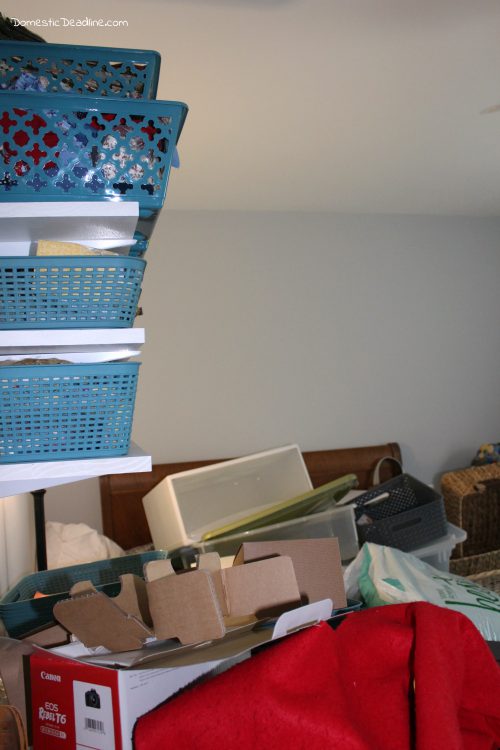 I'm going in…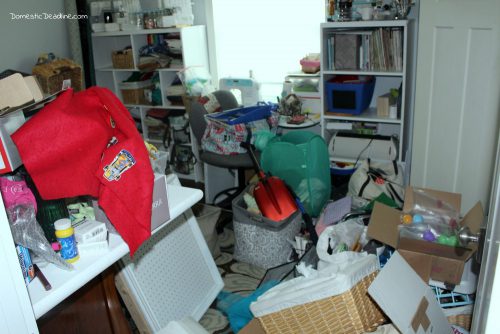 Told you it was bad!
And this is after I took some big things out that didn't belong in the room.
Obviously, there is still a lot of misplaced things in here… like the emergency shovel that is supposed to be in my trunk for winter weather! Thankfully, it's just starting to get cold now, and I've never actually needed it.
When we bought the house, one of the first things we did was to replace all the doors, windows, and trim. We also painted all of the doors and trim… except for my craft room.
I kept saying I'd paint that once the room was organized and I could get to the closet door easier.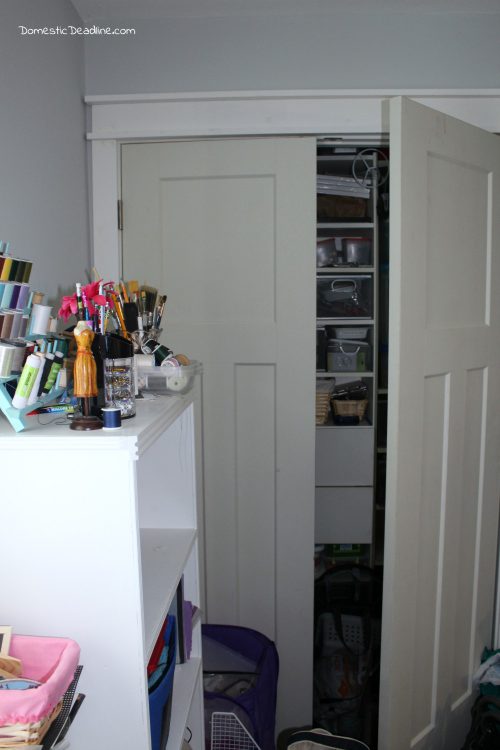 As I started working in the room, I decided, I just needed to get the painting done. So, I did.
And I'm so glad I did!
Now, if I can only figure out where I put the door knobs I bought 2 years ago…
Paint Cabinet
A few weeks ago I shared a paint cabinet I made using a frame, pegboard, and scrap wood. Just another reason why I love participating in the monthly #ProjectChallenge group, the materials list resulted in a great solution to an organization problem!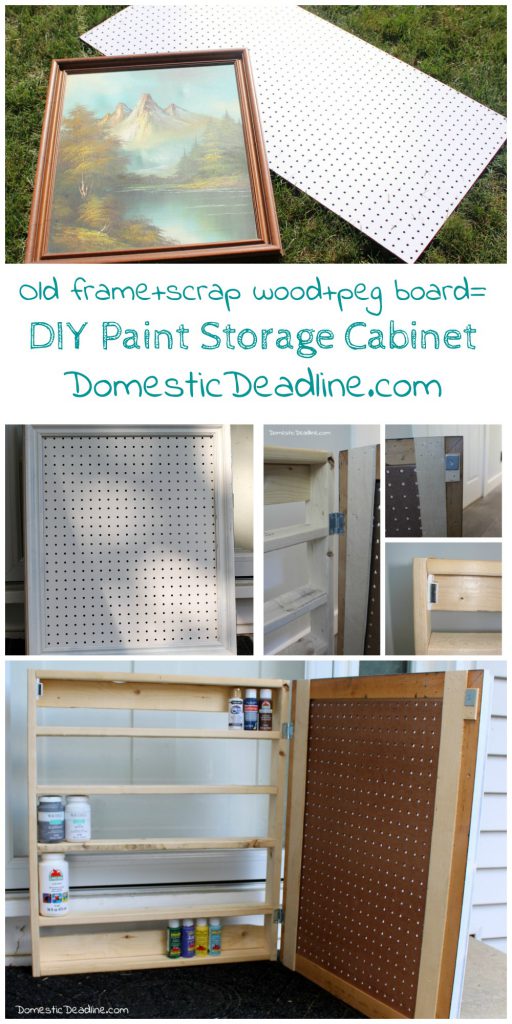 I knew I would finish painting the cabinet when I hung it in my craft room and painted all the trim.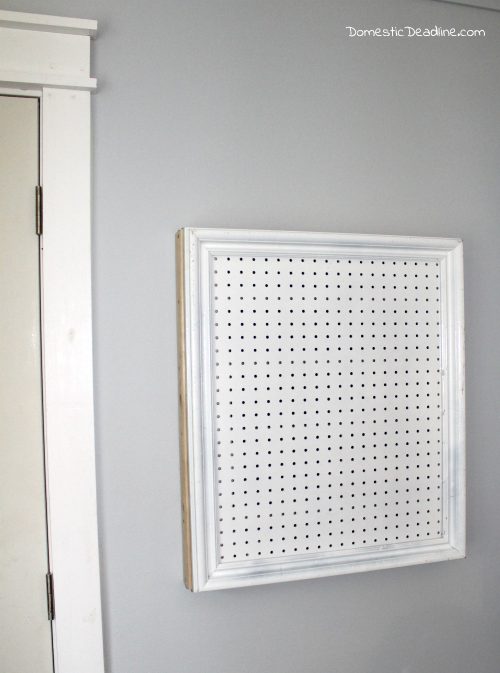 By getting this hung and painted, I was able to start using it, which has already helped with the progress of the room.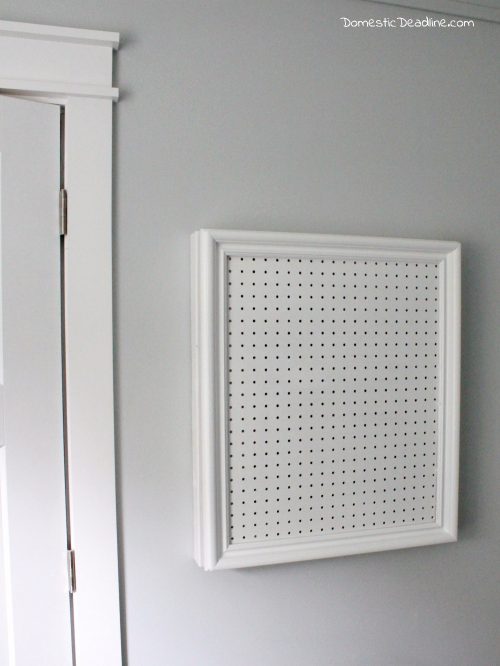 Crisp, clean, white paint makes me feel so much better!
Progress
In order to paint the closet doors and everything else, I had to make a path to even get there! But, once I did, I was able to accomplish so much more.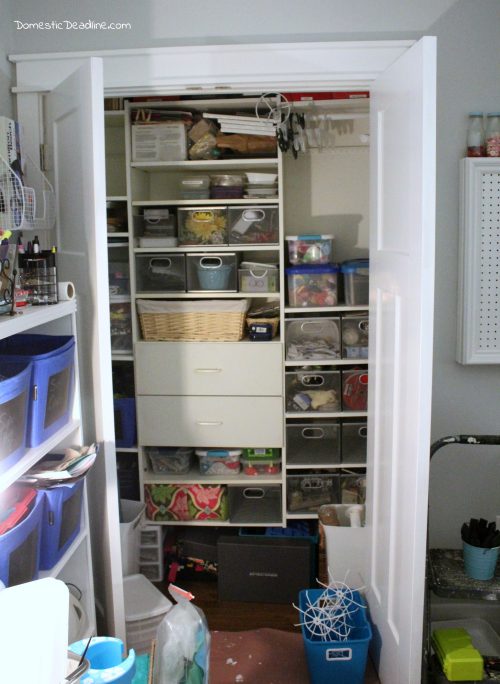 The previous owners installed the closet built-ins as well as a custom built-in desk and shelving unit around the window. I'm doing my best to make the space work for me. It seems to be working. And reducing the stuff I'm trying to fit in there will also help!
Getting the paint cabinet functional enabled me to clear out a few of the bins in the closet.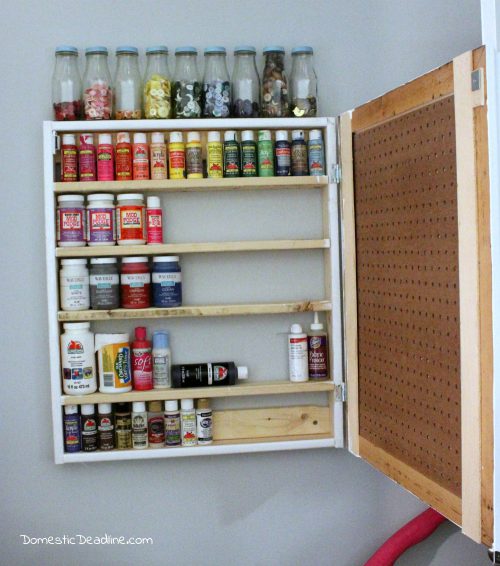 And make it look colorful and pretty! The whole reason I went with a pale gray in the room, so other colors would pop!
Thankfully, I'm tall, so I use as much space vertically as I can. I emptied another bin and made more space on top of the shelves by getting the thread racks hung on the wall.
Hanging the ironing board makes it easy for the family to find if they need to iron their clothes. Ok, no one really does this… the iron is really only used for crafts. But, I had forgotten I got myself a nice new iron! I had intended on getting rid of my old one, now I'm thinking having two might not be so bad. There have been crafts I haven't wanted to risk messing up my iron for…
I Craft, Therefore I Hoard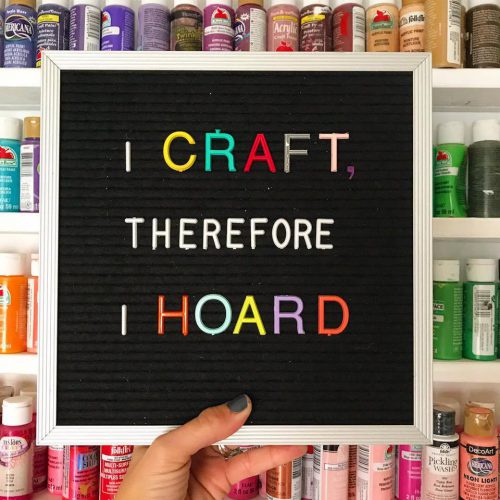 I'd love to give credit to where that came from, but I saw it awhile back on Facebook and saved it. I might need to print it and hang it!
I'm trying really hard to get rid of things. Crocheting and making crochet patterns is a real passion of mine. Over the years, I've written down several of my own patterns, but only managed to publish one. Check out more about that and my Shelly Scarf and Hat set here.
My goal is to get rid of things I don't think I will end up getting to so I can focus on the crafts and projects that bring me the most joy. Previously I donated tons of fabric (6 garbage bags full!) to my local Project Linus. This was after my neighbor who is learning to sew, selected a large bag for herself.
I still have some sewing projects on my radar, so I kept fabric with those projects in mind. And Christmas fabric because I can always find something to sew for Christmas!
Three bins of recycling, 2 large trash bags, and 2 large give-a-way bags have all been removed from the craft room! I have also consolidated all of the finished projects I planned on selling at craft shows and on Etsy. Since I don't really do craft shows anymore, I'm going to list the finished items on Etsy, sell them, and make a donation to a good cause.
My plan is coming together. For the first time since we moved in, I feel I have an obtainable plan for the craft room!
Except…. I should probably mention…. none of my yarn is in this room! It's all in bins in the basement or in baskets in the living room! At least, the baskets in the living room aren't too obvious, and that's typically where I stash the projects I'm working on since I crochet while watching TV.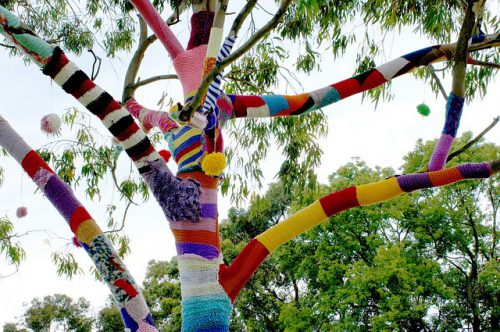 I may need to take up yarn bombing to deplete that supply!
Honestly, there has been a calming feeling when it comes to my craft room. I know it won't be too long until it's ready for me to be able to just create in there. And that makes me feel good.
Soon, I'll be able to sit at my sewing table, look out the window, and enjoy a cup of coffee while I work. Maybe I'll even start writing posts from in there, like an actual office!
I'm looking forward to that reward, of course, I need this to really complete the mood!
So, tell me, do you have a dedicated craft space? What organizing tips do you have for me?