Once upon a time, I carried yarn with me almost everywhere I went. I crocheted whenever I had a few minutes free. And I made lots and lots of hats! Any character someone asked me to do, I made. Most of them I sold at local vendor shows and on etsy. But somewhere along the way, I stopped carrying yarn. It's actually something I'm trying to get back to doing. It really relaxes me to crochet or knit. While waiting at the kids' practices and lessons, it's the perfect way to spend my time. Plus, I can crochet and talk at the same time! Since my craft supplies have been neglected for ages now, I really enjoy participating in C'mon Get Crafty's monthly destash challenge. This month I made something for the fall season!
Pumpkin Hat
When I was making lots of hats, I often made some pumpkin ones, usually, baby sized. I wanted to make one to send to a friend for her son, just a few months old.
Most of the time when I make a hat, I basically wing it. If it doesn't turn out the size I want, I adjust and make another one. It was a great way to build my inventory! I got to a point where I usually got the size right on the first try.
Alas, I'm a bit out of practice!
What was supposed to be a hat for a 6-month-old… fit a 14-year-old!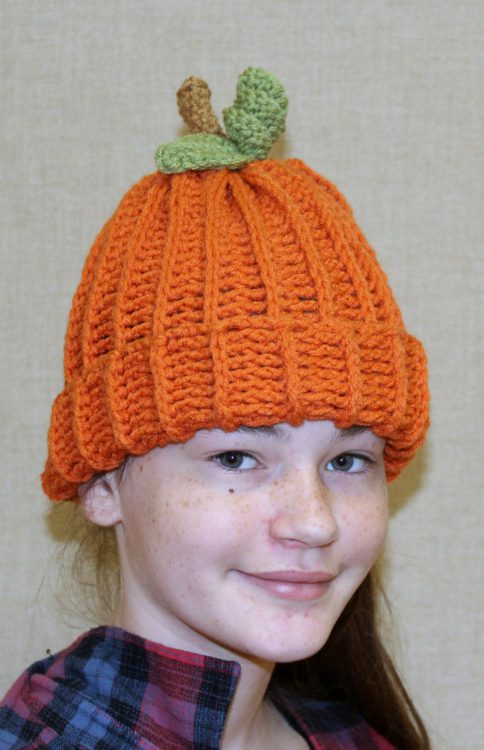 Truth… It fits me too!
Oh well, maybe I'll wear it for Trick or Treating if it's cold this year!
More Crocheting
I'm hoping to inspire myself by sharing some of my other crochet projects with you.
I've made several of these R2D2 hats over the years, they are always popular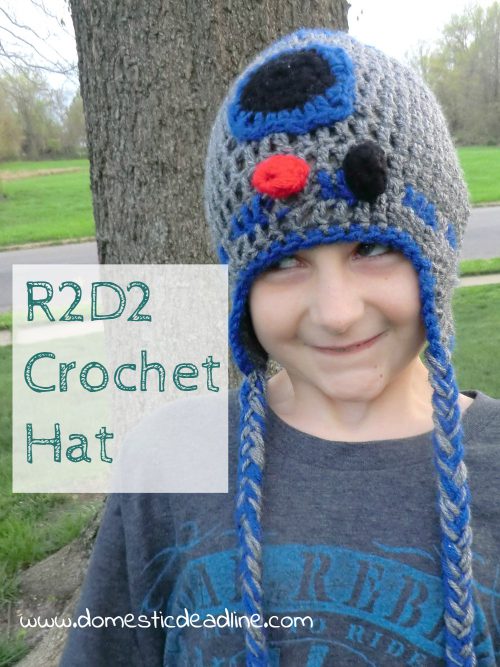 Both that and my Wonder Woman Crown were made and shared for the Monday Movie Challenge also with C'mon Get Crafty. The pattern is available free.
Most of my crochet projects are whatever I come up with, not using a pattern. But, I have been working on writing some of my patterns. I'd love to be able to offer more of them both free and for sale. This past winter I did finally get to publish my first ones, the Shelly Scarf and Hat.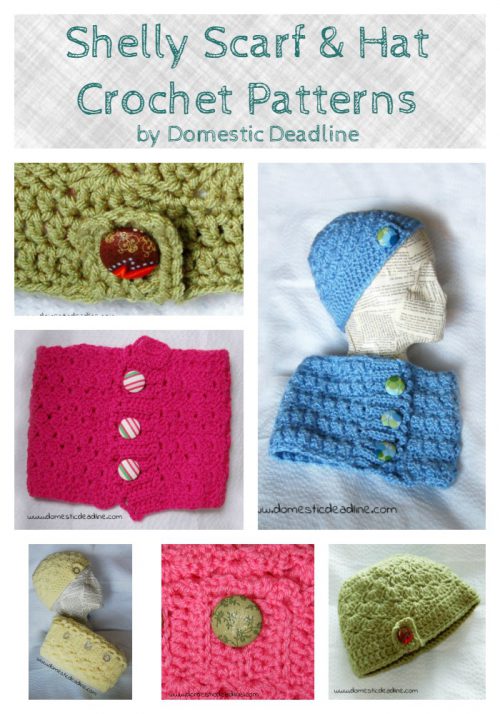 I think I probably made close to 100 of the between designing, writing up, and photographing the steps for the pattern. It's a fun and quick pattern if you've crocheted before, but not too hard to follow if you know a few basic stitches.
And now, let's see what my fellow bloggers have been up to this month!
Crafty Destash Challenge
Every month a group of bloggers are challenged by
C'mon Get Crafty
to create a new craft or project from their own stash of goodies! Check out some awesome creations you might be able to make from your own stash! #CraftRoomDestashChallenge
[clickToTweet tweet="What crafty creations could you make today from YOUR craft stash?! #CraftRoomDestashChallenge" quote="What crafty creations could you make today from YOUR craft stash?! #CraftRoomDestashChallenge"]
INLINKZ: