It's time for the Craft room destash challenge again. Each month I team up with other bloggers for this challenge. The goal is to make something from supplies already on hand; spending no more than $10 for any additional supplies necessary to finish the project. Personally, I aim to not spend a dime! This month I decided to tackle my tile stash.
Yes, I have a tile stash!
I'm sure this isn't something many people have. Over the last few years, I've collected leftover tile from my job. Frequently what I'm saving is the great accent tiles, but I'm not picky. If I like the tile, and I almost always do, and it would otherwise go into the trash, I keep it.
So far, it's really come in handy! I was able to tile my entire powder room floor from leftover white and black marble tile. From 4 different jobs! I even used some on the wall as an accent to the "shiplap." That shiplap was also left over from other jobs.
I have already a plan for O-Man's bathroom when we get to renovating it. All tile I've amassed from leftovers.
Four more left over tiles came together for the top of my mini office cabinet makeover. Now there is never a concern for setting drinks on the top.
While you may not have a stash of leftover tile, you might have some leftover from a project in your home. Otherwise, both of these trays could be done by purchasing a sheet of accent tile from your local home improvement store.

More Tile
For the mini-office project, I had hulled a large variety of tile out of the shed and into my garage. Ok, not exactly my craft room, but still stuff I was hoarding for projects! Because I hadn't known how I wanted to tile the top, I played with lots of ideas.
And I either had to lug all the tile back. Or, come up with a way to use more of it!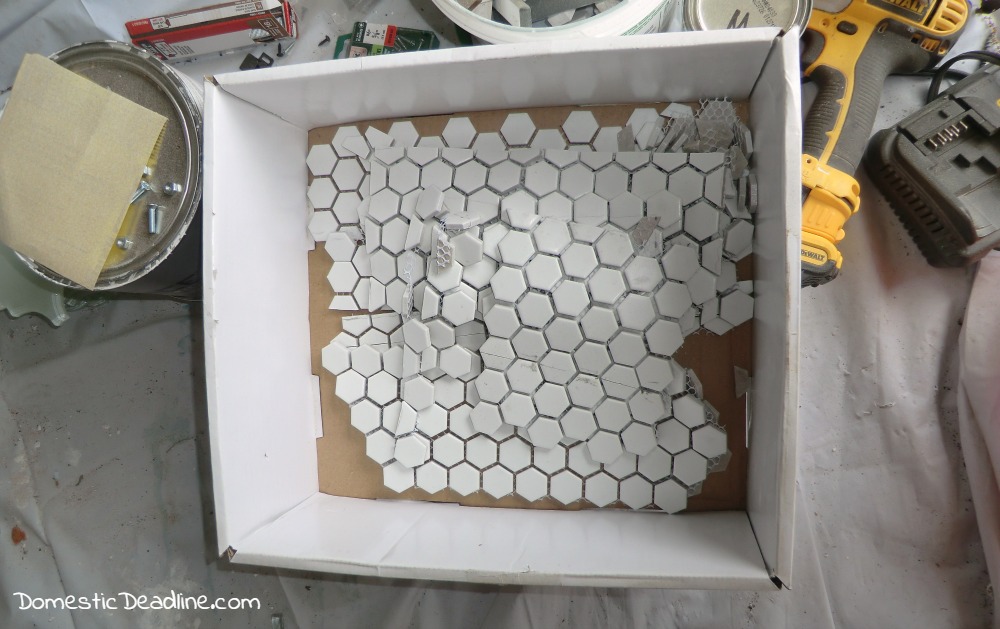 Gearing up for my kitchen remodel this summer, I've been thinking a lot about the accessories I will use in the kitchen. I've also been looking at lots of tile for my backsplash.
I love a variety of tile. But plan on using a white subway tile because I love that it's classic. And maybe I will have some sort of accent over the stove.
But I can also use great tile in the kitchen accents!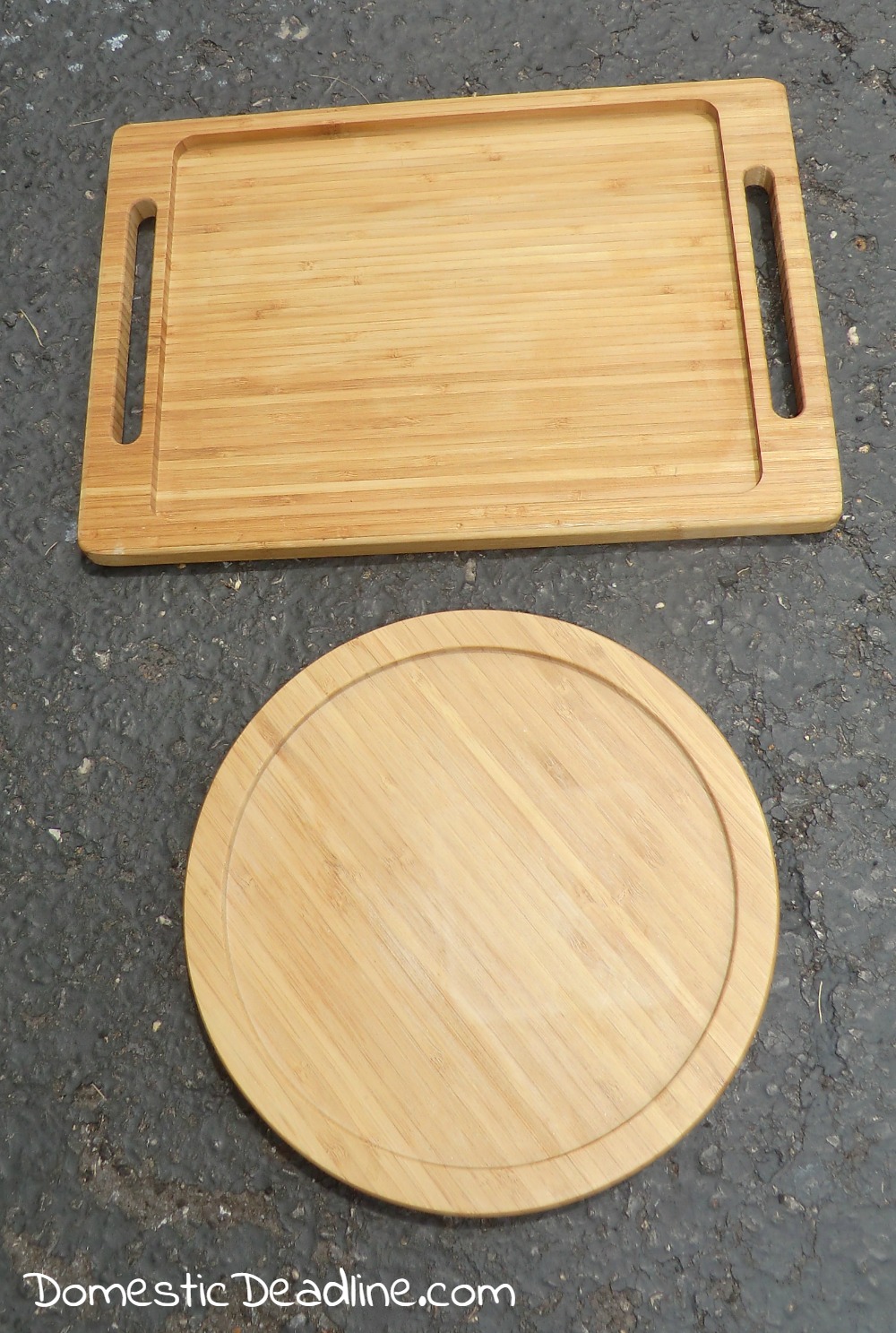 So, I gathered up some different white tiles from my stash. I had a wooden Lazy Susan I snagged from a yard sale. And a wooden tray that was part of a dried fruit platter we were gifted at Christmas.
Both were sitting in my pile of kitchen trays, but not really being used. But, perfect for adding tile too!

Puzzle Pieces
Working with scrap tile is fun because it's like fitting a puzzle together. I start by dry fitting all of the pieces. Since it's scrap, I need to make sure I have enough before I get too far into the project. There is nothing worse than realizing you don't have enough of something to finish the way you want.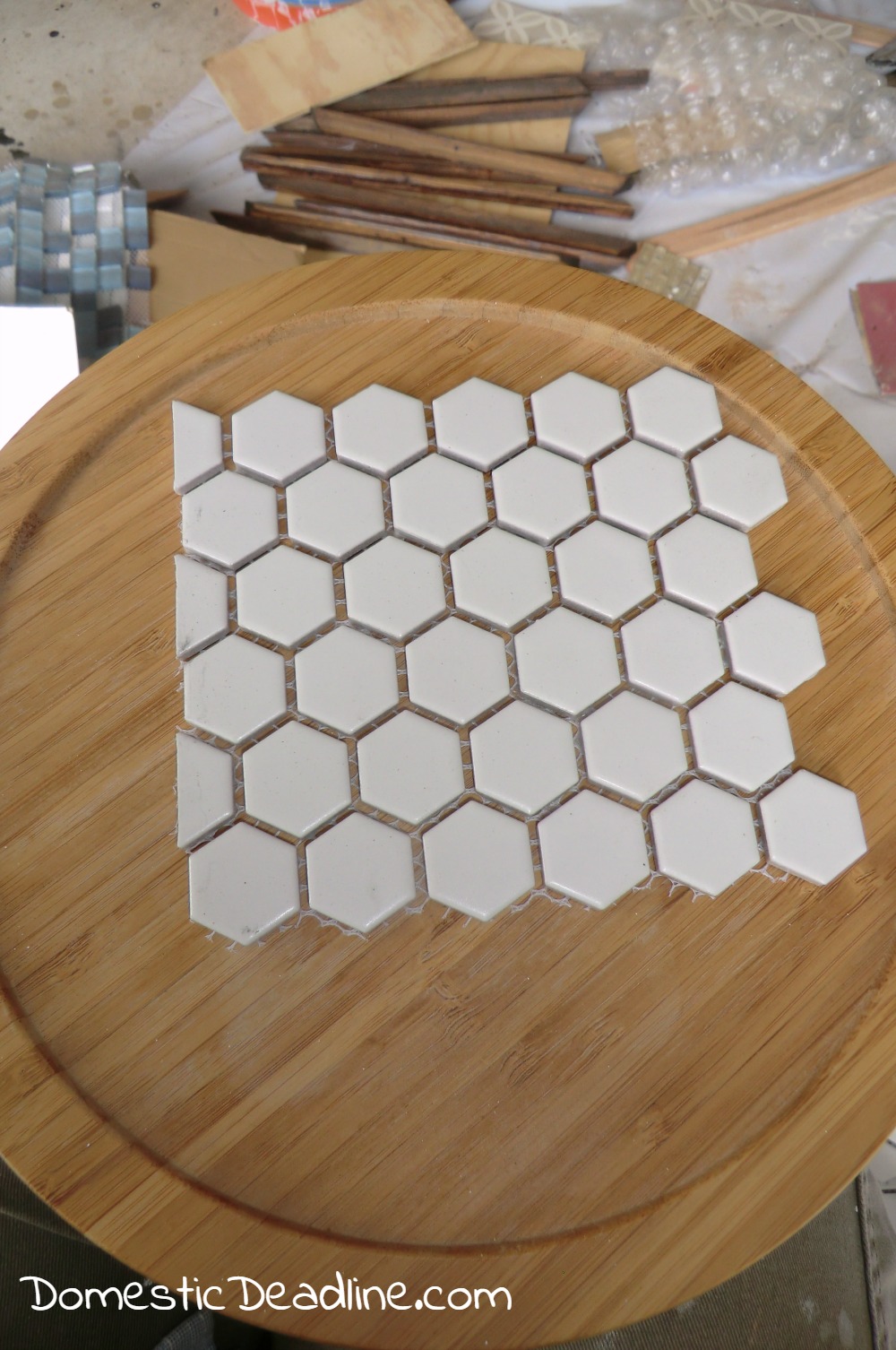 Using scrap also means I often already have cut pieces. While I have a tile saw, tile nippers and a tile snap cutter… not having to get any of them out makes the project even easier!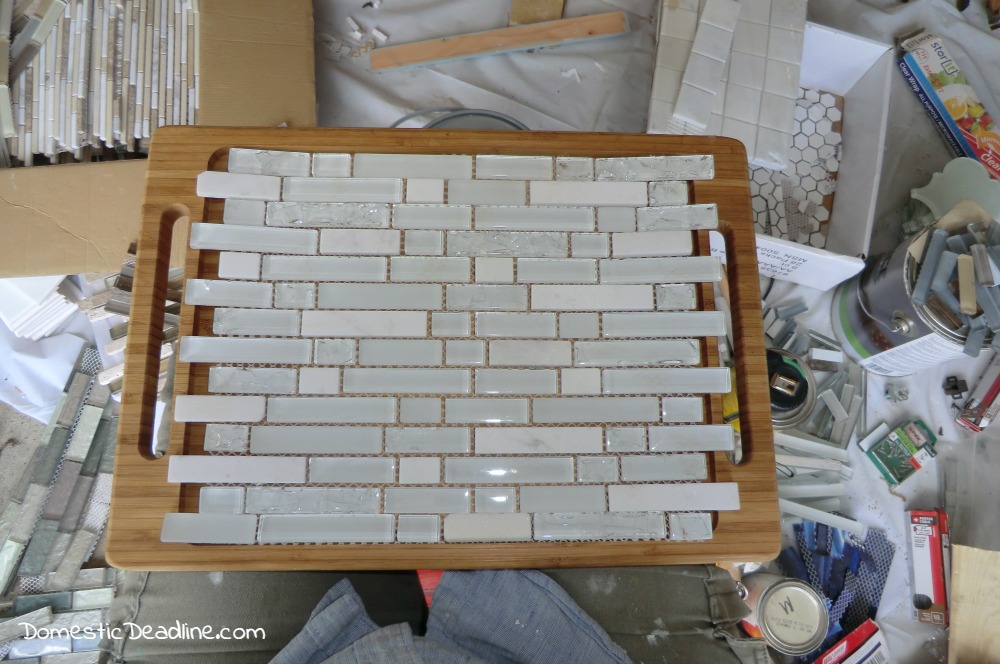 Once everything fit in dry, or I knew it would and had a plan, I spread the Omni-grip on and got to work.
When I lay tile floors or tile a tub or shower, we always use a stronger thin set. But premixed Omni-grip is great for kitchen backsplash tile and projects like this.
With the tile in place, it just needed to dry.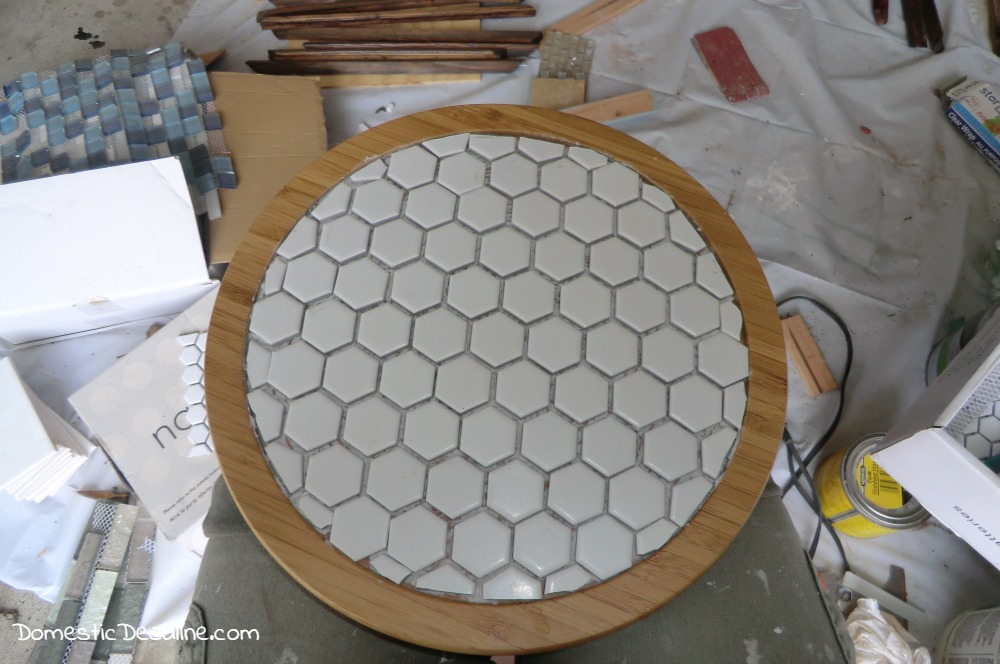 And then grouted another day!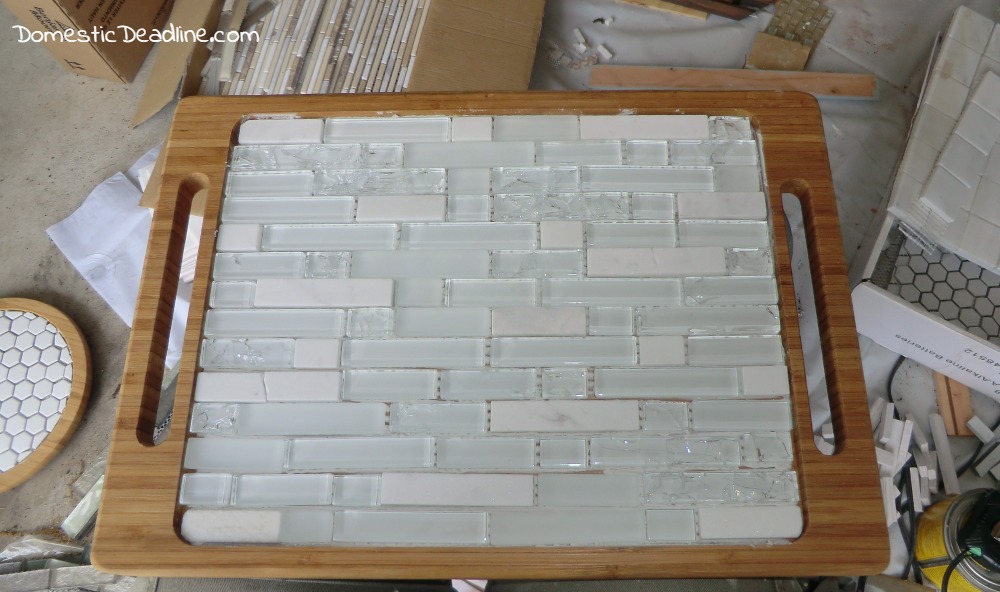 I don't know yet where in my new kitchen I'll use these. But I know they will find a home.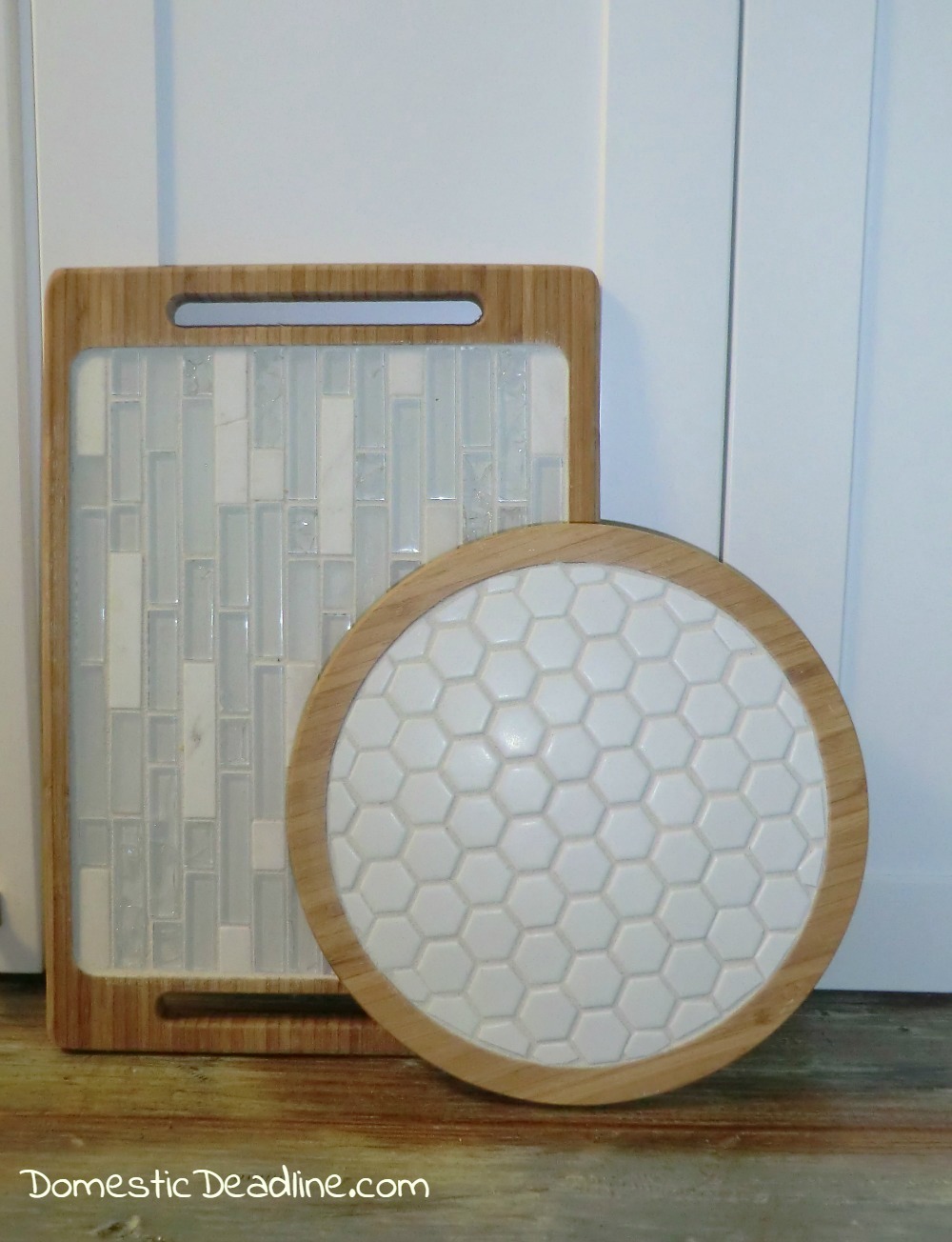 Now, check out some of these other great projects made from supplies already on hand. Working through my existing supplies has become so much more exciting with this challenge!
#CraftRoomDestashChallenge
Every month, a group of bloggers challenges each other to create a new craft or project from their own stash of goodies! Check out some awesome creations you might be able to make from your own stash! #CraftRoomDestashChallenge